Ecothrifty : cheaper, greener choices for a happier, healthier life
by Deborah Niemann
Remember, your old electronic gadgets create e-waste that must be recycled by a qualified recycling company. It's free, and some of them will even pick up.
Batteries pose a significant environmental threat and must be disposed of properly, not in the trash. Fortunately, it's more convenient than ever to drop off your used batteries:
Many retailers

collect old batteries; look for a bin at the checkout counter, and ask if you don't see one.


Household Hazardous Waste Collection Facility

has expanded their open hours to Monday through Saturday, from 9 a.m. to 4 p.m. They offer drive-through service so you don't even have to leave your car!

Don't put leftover paint down the drain! Here are some easy options for proper disposal.
PaintCare.org

Enter your zip code to find a convenient drop off location
Did you know that nearly a third of what we throw away is packaging? Reduce your impact on the local landfill by:
bringing reusable bags when you shop
buying in bulk whenever possible
using refillable water bottles
learning how to properly recycle the rest
Follow these links to learn more
Have you replaced an appliance with a new, energy-efficient model? Congratulations! Use this link to find out how to recycle your old appliance, working or not.
Contact Info:
(800) 984-INFO (4636)
(in county)
(925) 646-6434 (outside county)
The Story of Stuff is a fascinating 21-minute video created by Annie Leonard to begin a public discourse on a series of environmental, social and economic concerns. The Story of Stuff Project expands this discussion.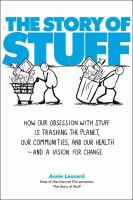 The story of stuff : how our obsession with stuff is trashing the planet, our communities, and our health--and a vision for change
The director of The Story of Stuff Project tracks the life of the "stuff" we use every day, transforming how we think about our patterns of consumption.
We all know where to recycle the bottles, but what about the corks?
Whole Foods Markets

Whole Foods is partnering with Cork ReHarvest to collect and recycle wine corks.

ReCORK.org

ReCORK collects corks and recycles them into shoe soles. Drop-off locations include many wineries and some specialty stores.

Wine Intro

Find dozens of creative ideas to reuse your wine corks.
Q. Where can I recycle clothing that is too worn out to give to charity? What about fabric from sewing projects?
A. There is a market for worn-out clothing and fabric, which can be recycled into insulation and other products. See links below for more information. You can also cut up old t-shirts and towels and use them for rags.
Have a question? Ask Us!